An Alderney Nature Diary
October 2001
The Weather
Wind and rain were the predominant features this month. Starting with maximum speeds between 30-40 knots from 1st-5th and 32.87mm rain in 24 hours on 9th, we had a relatively calm spell from 15th-22nd, immediately followed by strong winds reaching from gales of 30 knots up to storm force 11, from 23rd-31st. with gusts to 60 knots (68mph) reached at Platte Saline on 30th. The level at the airport was almost certainly higher. There were only 3 days without rain and, in the gales at the end of the month 14.78mm on 28th and 18.62mm on 30th fell in the 24 hours. Total rainfall for the month was 50% up on the long term average and almost three times that of last October. Rainfall totals for the year to date were 28mm (just over an inch) more than average, but about the same amount less than last year.
As might be expected sunshine amounts were well below both last year and the average. There were only 2 days with more than 8 hours and 5 days with none. Sunshine totals for the year to date were only slightly less than average, but almost 200 hours down on 1999.
Most highs and lows of temperature, pressure and highest and average wind speeds were similar to last year and the average, although day temperatures were almost 2ºC down on the long term average, the night-time temperatures were up by about the same amount.
Figures for comparison with October last year and the 20 year average
| | | | |
| --- | --- | --- | --- |
| Year | 2001 | 2000 | 20-year average |
| | | | 1980-99 |
| Rain mm. | 147.79 | 56.07 | 91.29 |
| Sun hrs. | 91.62 | 126.36 | 112.85 |
| Max. temp recorded °C | 18.2 | 16.9 | 18.9 |
| Min. temp recorded | 8.4 | 7.7 | 7.7 |
| Mean day temp | 13.7 | 13.9 | 15.4 |
| Mean night temp | 13.1 | 13.5 | 11.7 |
| Total rainfall, year to date, mm. | 582.8 | 618.5 | 555.8 |
| Total sunshine, year to date, hrs. | 1643.7 | 1831.0 | 1669.0 |
The Diary
First, a summary of the September bird report from the local twitchers, to amplify my own observations in last month's diary.
Large migrations of first year, Swallows (noted as 'tens of thousands') on a hot clear day on 23rd, with more of these and House Martins for the rest of the month. A Hoopoe was seen on 10th, A Pied Flycatcher and a Redstart on 11th, a Wryneck on 14th, with Wheatears and White Wagtails throughout the month. A White Stork was seen soaring over St. Anne on 13th. The first Grey Wagtail of the season on 16th, with Yellow Wagtails on 23rd. Five Greylag Geese passed over, travelling S on 22nd and a Brent Goose spent 3 days along the N side of the island from 27-30th. Sanderlings, Bar-tailed Godwits and Ringed Plovers noted in the bays and up to 8 Little Egrets were seen at any one time at Longis, Clonque or Braye bays.
Sandwich Tern families passed through all the month, with several groups staying a few days and fishing in several bays.
The bird report also noted a large migration of Painted Lady butterflies flying S. on 9th. A Clouded Yellow migration was noted around dusk on 16th and Red Admirals were coming in from the sea throughout the month.
1st. October. The Ivy (photo on left) is now in flower everywhere and being visited by several sorts of Bee a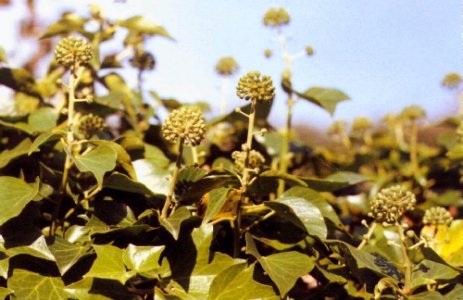 nd, when the sun came out in the afternoon, by Peacock butterflies.
2nd. October. A visit to the Giffoine showed no sign of Gannets on or around Les Etacs, where a single dead bird was noted, presumably trapped in the fishing net that they often pick up and incorporate in their nests. No sign of movement over the more distant Ortac colony either. However some considerable numbers were later reported on 8th, almost all gone by 11th.
9/10th. October. 33mm rain in the 24 hours and winds to 55 mph 2 a.m. on 10th and 11th.
13th. October. Horse Chestnut leaves all falling in Le Pré de L'Eglise, Elm leaves beginning to fall everywhere, Sycamores turning in the sheltered area of La Vallée, but already bare in more exposed sites. The rain and some bright sunshine have brought out another fine crop of Parasol Mushrooms (Lepiota procera) (photo on right) in many parts of th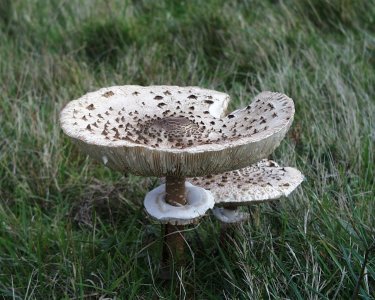 e island.
Bats flying in circles over our swimming pool in the late evening. Probably Pipistrelles.
19th. October. A lot of Black-headed Gulls about at Corblets Bay and a few Common (or possibly Sandwich) Terns. The Ivy is really making a huge show this year, I don't remember so many flowering heads on the short, almost ground level branches. These usually seem to form only on the higher levels overhanging rock and wall tops. Old Man's-beard seed heads in some quantity under the Cupressus trees by Battery crossing. There is an absolute mass of this all along the track on Les Rochers and it is a plant, not formerly very frequent, which seems to have spread considerably in the last 4-5 years from the few small colonies.
20/21st. October. Peacock and Small White butterflies quite frequent on these two days and several Silver-Y moths in the garden. I thought that these last had finished for the season. A single patch of Jersey Lilies has appeared amongst the pine trees behind the filter beds at the Nunnery. Not noticed here before.
25th. October. White Wagtails at Corblets Bay, more than a dozen. A fine crop of The Prince mushrooms (Agaricus augustus) on a bank near Fort Tourgis.
26th. October. Single flower noted on a large patch of Sweet Violets in my garden. These usually come into flower just before Christmas. In the afternoon a mixed flock of several hundred Gulls and several score of Gannets were circling and fishing over the Swinge current just off shore from Fort Les Hommeaux Florains. The Gannets were plunging into the sea from quite a low level, whilst many of the Gulls were swimming on the surface and dipping for fish. A local fisherman told me later that it is not uncommon to get large shoals of Bass along here at this time of year, which the Gannets were probably after and they drive the smaller fish, Pollock. etc., up to the surface where the Gulls can get them. Over about 20 minutes the whole flock gradually moved along as the shoal moved against the current.
These Gannets could well have been in passage from areas further north as the local breeders all seem to have gone about a month ago.
27th. October. A family of four Pheasants on Platte Saline and scores of Starlings on the electricity wires along the road here. A male Pheasant has visited my garden several times a day all month. A Blackcap seen on an arched Bramble along Longis Common.
30th. October. Worst storms and floods in southern England since the 1987 hurricane. Winds to 91mph at Falmouth and Portsmouth, with a tornado at Bognor and another at Selsey the next day. Port of Dover closed for 24 hours. More flooding in S. Wales and the Midlands. We had winds to 68mph and about 19mm rain in the 24 hours but no significant damage or flooding. Several places in UK had more than this in an hour.
31st. October. Another Blackcap on a similar perch on Mannez Garenne, kept moving a few yards ahead of me for several minutes. Mannez pond well filled after the large amount of rain and the natural pond at Platte Saline also with plenty of free water among the encroaching vegetation. Flights of up to a dozen Mallard circling the area most evenings during the month.
October Bird report from Jeremy Sanders
Our winter migrant Greenfinch, Chaffinch and Goldfinch have all been reported from bird tables, flocks of them arriving from the sea on a clear morning on 22nd. more Robins were reported arriving from mid month. Small numbers of Swallows were noted in passage during the month and, on 22nd, 27 swallows and a single House Martin were seen at Quesnard.
Goldcrests from 16th, White Wagtails in some numbers in several parts of the island and a single Firecrest seen in La Vallée on 18th. Strong winds brought in migrating Redstarts overnight on 21st and Redwings arrived later in the month.
Over 1,000 Gannets were counted on the Garden Rocks on the 8th, but only 8 adults and 3 young remained by 11th after 3 days of severe gales. A rare visitor, a Kingfisher was seen at Longis on 14th and possibly the same bird at Battery Quarry on 18th.